Develop your Chess skills and become the Chess champion to win real prizes!!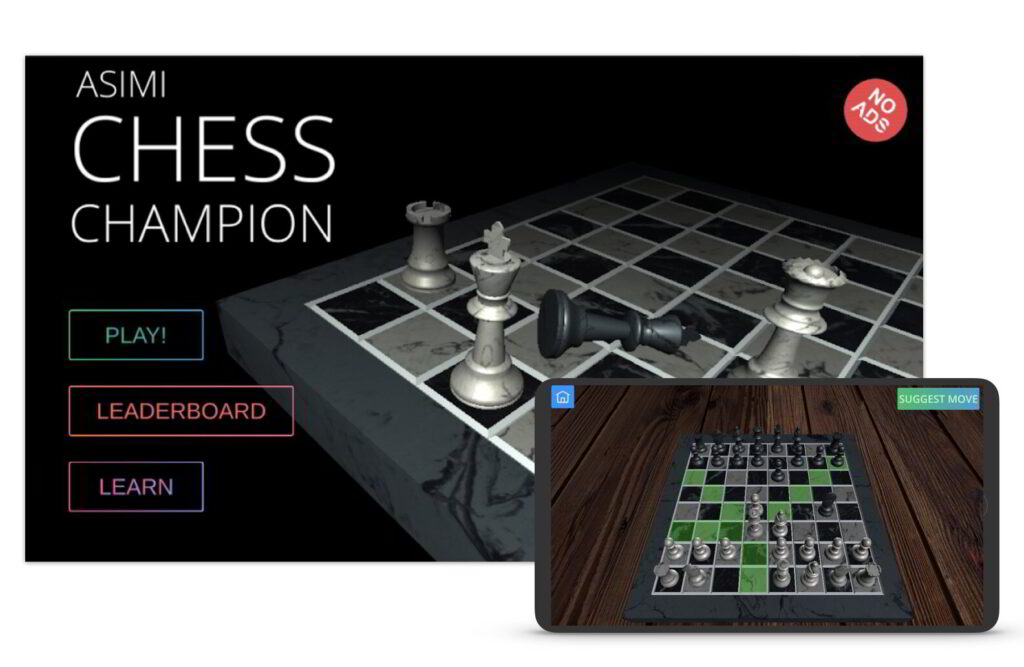 Our state-of-the-art Chess AI will force you to push your knowledge to the limits while also learning new moves with helpful "Suggest Move" hints that will teach you by example and ultimately help you win, plus let you impress and beat your friends the next time you play with them!
Imagine playing Chess, gaining skills, and winning prizes! That's precisely what Asimi Chess Champion does. Asimi Chess Champion awards prizes to the top Chess players each month! You can track your progress on the Chess leaderboards and win real Asimi prizes just for having fun playing Chess!
You likely already know, Chess is excellent for the mind, powerful for life's lessons and is much more than just a game. Studies have shown that playing Chess can increase your IQ, keep your brain active, and improve academic and social skills.
Benjamin Franklin described it in this way:

Asimi Chess Champion Features:
Why Play Asimi Chess Champion?
Not only can you become better at Chess than you are now, it's free, and you can win REAL crypto prizes just for playing! Play Asimi Chess Champion and improve your skills while also learning and potentially winning prizes…? Amazing! Play today and visit our website for details on claiming your prizes. Challenge yourself to be the Asimi Chess Champion! (Play offline! No internet needed!)
How to win Crypto Playing Asimi Chess Champion
Each month the top 10 positions on the monthly leaderboard will Win Asimi Token Prizes.
There are 3 categories. Easy, Medium and Hard.
All 3 categories will win.
See how you can participate in the leaderboard here
If you are in the top 10 positions in any category at the end of the month, you win!
Asimi prize values will vary based on app revenue and will be published as we get closer to the draw each month.
The first draw will be end of May. (No less than 100 Tokens will be awarded per position)

Why play games with ASIMIPLAY?
Millions of people around the globe are searching for ways to earn income from home. We see this as a significant issue that most people face and is precisely why we built AsimiPlay. AsimiPlay is designed as a needed solution to bring revenue to the hands of millions by creating fun, enjoyable and challenging games that anyone can play while also earning cryptocurrency. If you have ever wanted to find a simple thing you can do to earn BITCOIN or other tokens such as ASIMI tokens, then this is what you are looking for. It is absolutely free to download and play games with AsimiPlay and earn Crypto for free too. The more you play, the more cryptocurrency you can earn, and the more chances you have to win.
With our first Game Word Solve Active Brain Game, 1. You can download the game from the Google Play Store for your Android device for free. 2. You can then play the game for fun as you solve jumbled letters to form words. 3. When you complete all levels, you can let us know via the Asimi play support contact form, and we will put you in the draw for a massive 15,000 Asimi tokens prize give away! You can see the crypto prize board for
details here.
Why earn CryptoCurrency with AsimiPlay?
The world of cryptocurrency is booming, and what better way to earn it than for free playing games? Asimi play offers exclusively crypto rewards in the form of Bitcoin and Asimi Tokens. By learning or winning either Bitcoin or Asimi, you can keep it, use it for purchasing other goods, or exchange it into your own local currency such as dollars. Don't wait to start earning Crypto! The more you can earn, the better! Ride the crypto boom with AsimiPlay
Remember, to potentially win a lot of Crypto, download Wordsolve for free and play to have fun, complete the game, and end up with a big lump of Asimi in your wallet. Now that is a great way to win Crypto for free!