Can you sort the colours in time?
A progressively difficult colour combination game to race the clock and complete the combinations before running out of time! Complete the levels to earn in-game coins. Your coins are redeemable to real-world prizes..! Nice!
Having fun, winning prizes, and challenging yourself to solve the colour puzzles is what the Asimi Play Colour Countdown is all about! With over 300 levels to pass, it's fun to see how far you can progress.
For every successful level you pass, yes, you'll earn coins, but be careful, with each unsuccessful attempt, you lose a coin to restart the level! Damn… With time NOT on your side, do your best to pass the levels with every attempt as successful players can redeem the coins for real prizes including, Amazon and Google Play gift cards and Asimi tokens!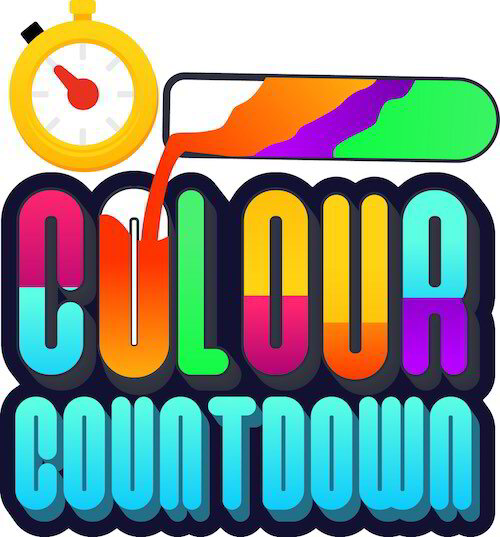 This active brain game helps you to learn faster and more efficient ways to beat the challenge helping improve memory and strategy. As you progress through levels, the countdown clock starts to play an ever-increasing role. Time becomes increasingly scarce, and you have to move with haste to complete the level, making pre-planning the level essential to ensure you start the game with the correct first moves that will allow you to complete it. Beginning the level by moving the wrong colour can cause you to become stuck with no way to finish! Use your memory to know the best start to your games and find the satisfaction of reaching above 300.
Colour Countdown Features:
How AsimiPlay Colour Countdown works:
Tap the tubes to pour the colour into other tubes to match the colours. You can only place the matching colour on top of the same colour. Once the tube is filled with the 1 colour, it is complete. You pass the level by sorting all colours before the countdown timer reaches zero.
You can continue playing each level, and the higher the level, the more points you earn for completing. You can watch reward ads or refer a friend to boost your points if you run out.
After level 50, you have the option to add a test tube. This decreases difficulty should you get stuck.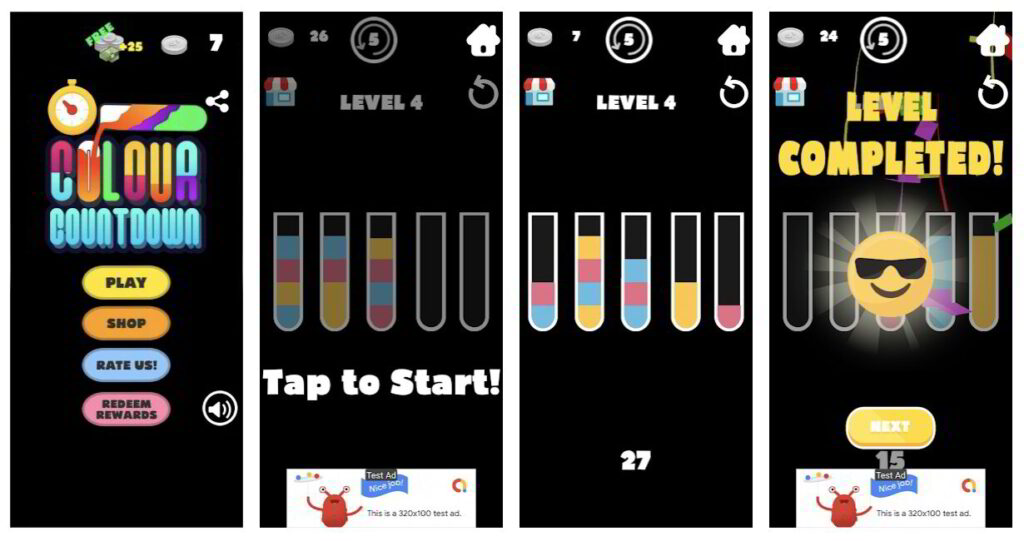 How AsimiPlay Colour Countdown works:
You can earn in-game coins just for playing, sharing, and more that are usable or redeemable.
Play to have fun! We have designed Colour Countdown as a fun, challenging game first, the chance to redeem rewards second.
Whether you want to redeem your coins for prizes or use them to have fun playing, that's up to you 🙂 You can use your coins to make your game experience even better! You'll receive 2-8 coins for each successful level you pass (depending on the level), a bonus + 25 coins for rewarded ad views, claim a huge + 1000 coins bonus for referring your friend.
Here's how you can use your coins:
Redeem them for prizes, or use them in Colour Countdown for adding new themes, adding extra tubes, and level restarts.
Share with your friends for 1000 extra coins!!
Share Colour Countdown with your friend, they get coins, and you get coins too! For every friend that joins using your share code, you get 1000 coins! To make things even better, they get 100 bonus coins too! What a win-win!
To find your code, click on the share icon from within the game home page to get your unique share code.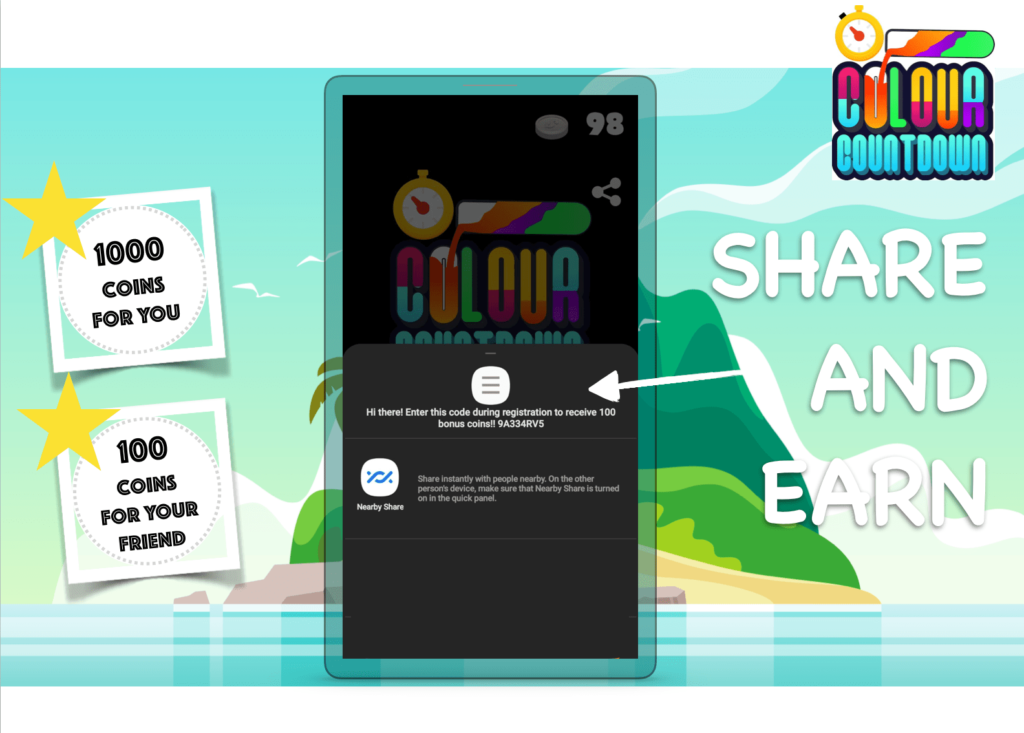 Copy your code and send it to your friend to enter at registration. The bonus coins get awarded when they reach level 30!
Be sure to let them know to progress to a minimum level 30 in Colour Countdown to claim their 100 coins and for you to claim your 1000 coins. You can find the current redeem values on the Asimi Play redeem page here.
The coins system is managed via your account created when you register after downloading the game
. Be sure to use an active email address for you to redeem and communicate with AsimiPlay support. AsimiPlay is committed to privacy and security. We never share, rent or sell your information to 3rd parties. Your email is only used for Asimiplay game communication, including rewards delivery. You can read more about our
privacy policy here.

Start Playing Colour Countdown today!
Why play games with ASIMIPLAY?
Millions of people around the globe are searching for ways to earn income from home. We see this as a significant issue that most people face and is precisely why we built AsimiPlay. AsimiPlay is designed as a needed solution to bring revenue to the hands of millions by creating fun, enjoyable and challenging games that anyone can play while also earning cryptocurrency. If you have ever wanted to find a simple thing you can do to earn BITCOIN or other tokens such as ASIMI tokens, then this is what you are looking for. It is absolutely free to download and play games with AsimiPlay and earn Crypto for free too. The more you play, the more cryptocurrency you can earn, and the more chances you have to win.
Why earn CryptoCurrency with AsimiPlay?
The world of cryptocurrency is booming, and what better way to earn it than for free playing games? Asimi play offers exclusively crypto rewards in the form of Bitcoin and Asimi Tokens. By learning or winning either Bitcoin or Asimi, you can keep it, use it for purchasing other goods, or exchange it into your own local currency such as dollars. Don't wait to start earning Crypto! The more you can earn, the better! Ride the crypto boom with AsimiPlay
Remember, to potentially win a lot of Crypto, download Wordsolve for free and play to have fun, complete the game, and end up with a big lump of Asimi in your wallet. Now that is a great way to win Crypto for free!