AsimiPlay has released their 2nd game, Asimi Chess Champion!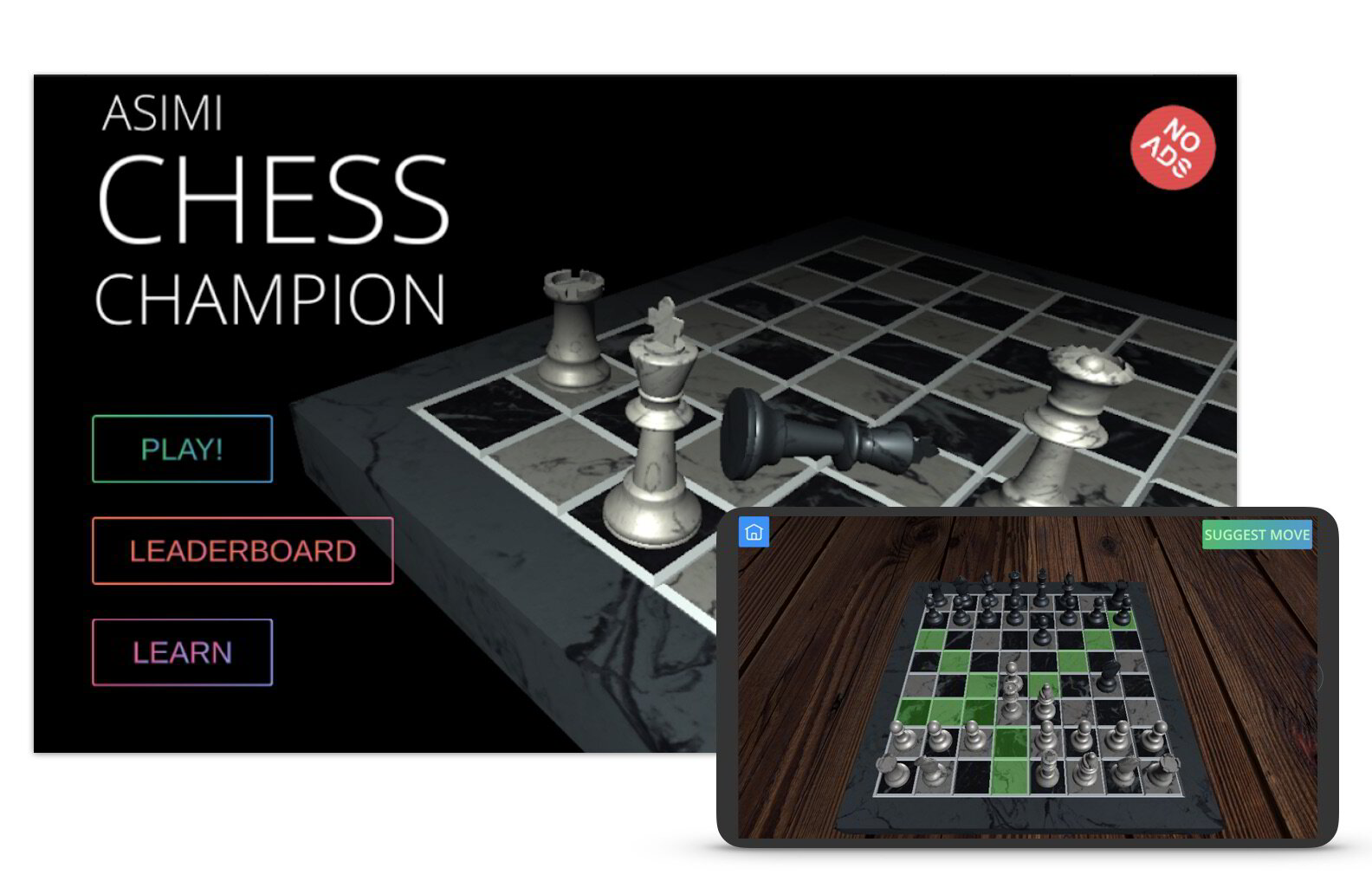 Like Asimi Asimi play games, you can play, have fun and earn Asimi crypto tokens!
Develop your Chess skills and become the Chess champion to win real prizes!!
Our state-of-the art Chess AI will force you to push your limits while also learning new moves with helpful "Next play" hints that will teach you by example and ultimately let you impress and beat your friends the next time you play with them!
Imagine playing Chess, gaining skills, and winning prizes!
That's precisely what Asimi Chess Champion does.
Asimi Chess Champion awards prizes to the top Chess players each month! You can track your progress on the Chess leaderboards and win real Asimi prizes just for having fun playing Chess!
You likely already know, Chess is excellent for the mind, powerful for life's lessons and is much more than just a game. Studies have shown that playing Chess can increase your IQ, keep your brain active, and improve academic and social skills.
Benjamin Franklin described it in this way:
"The Game of Chess is not merely an idle amusement; several very valuable qualities of the mind, useful in the course of human life, are to be acquired and strengthened by it, so as to become habits ready on all occasions; for life is a kind of Chess, in which we have often points to gain, and competitors or adversaries to contend with, and in which there is a vast variety of good and ill events, that are, in some degree, the effect of prudence, or the want of it. By playing at Chess then, we may learn:
1st, Foresight, which looks a little into futurity, and considers the consequences that may attend an action …
2nd, Circumspection, which surveys the whole Chess-board, or scene of action: – the relation of the several Pieces, and their situations; …
3rd, Caution, not to make our moves too hastily…."
Asimi Chess Champion Features:
– Free, fun and challenging to play
– Unlimited games
– Play Chess offline
– Challenge yourself to reach the leaderboard
– Win monthly prize giveaways
– Easy, Medium and Hard setting
– Play Black or White
– Play 3D or 2D
– Rules of Chess included
– Increase your Chess skills
– Helpful next move hints to learn and beat the AI
– Coming soon: Play your friends online (Multiplayer coming in stage 2)
Why Play Asimi Chess Champion?
Not only can you become better at Chess than you are now, it's free, and you can win REAL crypto prizes just for playing! Play Asimi Chess Champion and improve your skills while also learning and potentially winning prizes…? Amazing!
Challenge yourself to be the Asimi Chess Champion!
Click here to download from Playstore